Brodnax man survives head on collision
»

Brodnax man survives head on collision
The Lake Gaston Gazette reports on a bad accident on January 7 in southside Virginia.
Twent-year-old Jose Lara of Brodnax, Virginia (in Brunswick and Mecklenburg Counties) lost control of his Dodge Neon on a curve and swerved sideways into the path of a Parker Oil propane truck driven by Jerry Jones of LaCrosse, VA in Mecklenburg County.
Lara was transported to Community Memorial Healthcenter in South Hill, Virginia with injuries.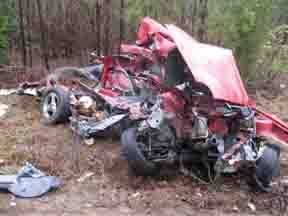 Mr. Lara's car is in pretty bad shape.
After seeing that picture it is hard to imagine how you would survive that wreck.
What Secrets Don't Insurance Companies Want You to Know?
Want to know what hidden secrets insurance companies are keeping from you about your insurance claim? Before you settle for less than you deserve, download a copy of my free book that explains their most common tricks.
Download Now »
Client Testimonials

"

I was very thankful for the personal attention that was given to me by all of your staff. When you go through something like I did in the fire, people's attitudes can make a difference! Thanks for everything!

"

— Patricia Hedrick

"

I feel that my case was handled in a very quick but professional manner. I was very pleased and would recommend your firm to anyone in need.

"

— Robin Truitt

"

My case was handled in a very professional manner, it did not have any of the more common aggravations.

"

— Thomas Queen Jr.

"

I like you as my lawyer because you are always there when I need you.

"

— Iman Saleem

"

I'm proud to say that the lawyer I had was very professional and took his job very personally.  I will highly recommend him to any person.  Very honest man, tells you the truth, not what you many want to hear.  Prayers are with the company.

"

— Nadine Green
Read More »